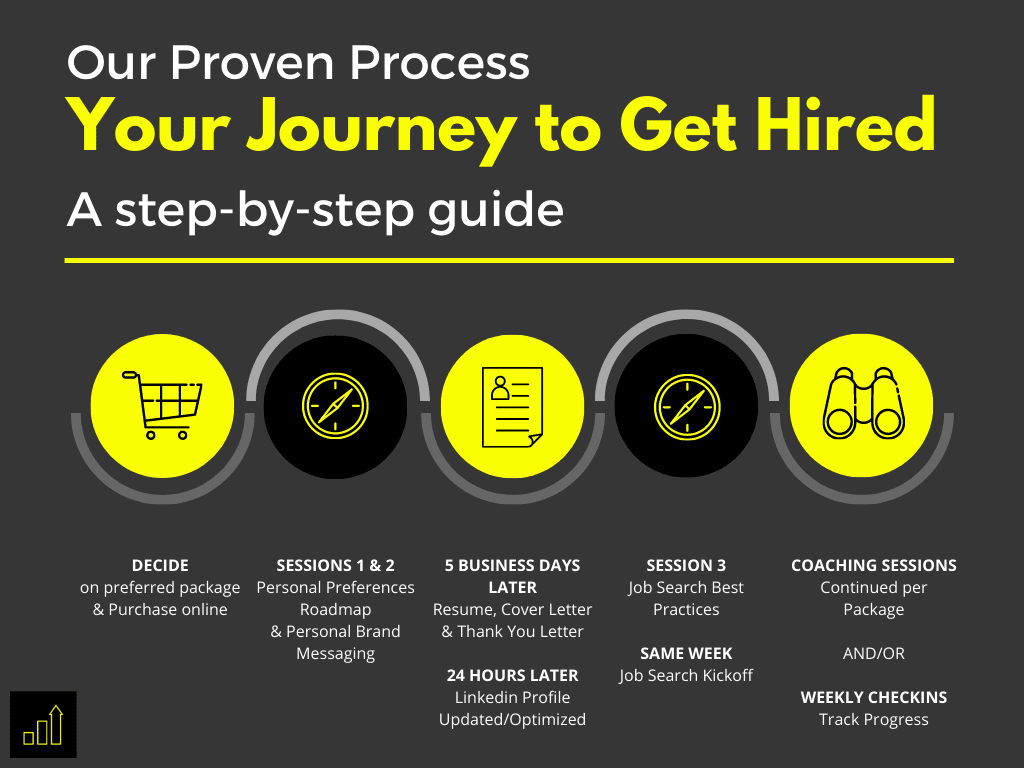 Introduction to Our Process
Your journey to get hired begins once you choose a package and either pay in full on our website or make your down payment on a payment plan through PayPal, you receive:
1. a welcome email with login instructions to our coaching page with next steps
2. a link to schedule our first coaching session together
Session #1: Discovering Your Job Search Focus
This is our first session, held typically within the first week, or the soonest our schedules align.
During this first session, we produce a Personal Preferences Roadmap™ which becomes the customized focal point for your job search and which we use as the criteria for job leads we might send you once our Job Support Services begin after you receive your deliverables.

Assignment: Your assignments between sessions 1 and 2 will be to schedule your next session, and to take our course on personal branding: Elevator Pitch course, complete the worksheet and email it back to us.
Session #2: Developing Your Brand Message
In the next coaching session (scheduled together at the end of our first session), we collaborate together on word-smithing and nailing down your Elevator Pitch, based off the work you completed during the course.

Assignment: Schedule your 15-minute Resume Review session for approx. five business days after session two.
Deliverables Produced
Within five business days, the first draft of your resume is emailed to you as well as your Cover Letter and Thank You Letter. Once we agree your resume is ready for applying with, your LinkedIn profile is updated and optimized within 24 hours. This is also when your Job Support Services officially begins.

Session #3: Uncovering Hidden Opportunities and Networking
Newly armed with your resume and LinkedIn profile, the next step in our process on your journey to get hired is where we train you how to position yourself as a Subject Matter Expert in your field on LinkedIn and how to draw the attention of recruiters and decision makers alike so you get noticed. We also provide a job search CRM tool that will prove a handy tool as you organize your job search.
JOB SEARCH KICKOFF, CONTINUING COACHING
SESSIONS
Same Week:
Calibration and Alignment mtg (1x)
LinkedIn Post (1x)
Recruiter Circular Newsletter (1x)
Weekly 30-minute Progress Updates for up to 3 months
Coaching Sessions 4-8 Simultaneous